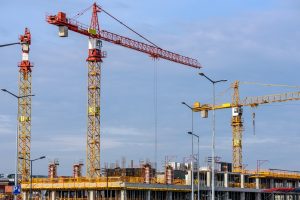 What's your experience in the scaffolding industry?
I started working in this industry as a 17 year old. I started as a scaffold labourer and my first job was working for a small company that was based in Chatham, Kent. I was part of a three-man gang and the work used to be extremely dirty and dangerous. Every weekday, we started at 6 AM. Our job was to load things into the lorry and then get out for work. I kept working for modular scaffolding services for many years but then I got an opportunity to advance my career within TRAD. I was chosen to become an Advanced Scaffold Inspector and then I became a SHEQ officer. Currently I am working as the health, quality, environment and safety group manager as part of the SHEQ team that reports to the group safety director.
What changes have you seen in the scaffolding industry since you started?
During my initial years when I was working for small companies, there was no safety culture or it was really poor. Training was almost non-existent and in fact, some workers also preferred working without caring for safety. Accidents were not taken that seriously and considered part of the occupational hazards. Things have undergone a lot of change and the condition of workers has seen significant improvement due to efforts by the NASC, reputable clients and companies such as ours. These days, people in the industry are highly trained and it won't be wrong to say that the people today are much more professional. The trusted scaffold suppliers such as APL Kwikform have also played an important role in making the industry safer. In short, we can say that the risk of injuries has gone down significantly in the industry.
What are your views on statistics regarding injuries at work?
In the 2 decades since 2000, the accidents involving falls from height have gone down significantly. The SG4 guidelines which outline the NASC safety guidance for working at heights was introduced in the year 2000 and the NASC has witnessed an 80% reduction in the number of accidents since the introduction of the guideline. In fact, an additional 46% decrease has happened in the accidents involving falls from heights in just one year as per the data shared in the 2018 safety report by NASC.
Injuries used to be quite common. In fact, I personally know people who have lost their lives or have been seriously injured while working as a scaffolder. However, there hasn't been any fatal injury over the past 5 years when it comes to NASC members. Things have improved greatly but we need to keep working to make further improvements.
What are the main advantages of being an NASC member?
It offers great value and is excellent for clients who prefer working with NASC contractors. NASC membership offers a variety of benefits such as SSIP accreditation, access to good professional advice dealing with tax issues and employment and greater funding for training, among other things. When clients choose to work with an NASC member such as TRAD, they can be assured that the workers are stringently audited, competent, well-trained and safe. More than 50% of the employees are gold or blue carded and a 75% minimum PAYE.
What are the biggest challenges faced by the scaffolding industry?
It is likely that scaffolding is going to become a much more specialised trade. There is a need to bring dedicated young individuals to the industry who have the drive and determination to become an excellent scaffolder. There is a lot of potential in the industry. However, construction industry needs to play an active part. There are many apprentices employed by TRAD. We offer an excellent mentoring scheme and there are a lot of people who are working on recruiting young individuals to turn them into excellent scaffolders.
How have your previous jobs helped you become a better safety professional?
My previous jobs have had a lot of impact on my current job. With the experience I have, I can say that the first-hand knowledge and experience in the industry has played a big role in helping me get where I am now. Every single job I've performed in my career has led me to this place. As a scaffold inspector, I have personally witnessed the difference in bad workmanship and high quality work. This has provided me better appreciation for the importance of the quality of training.